View cart
"Auxiliary four outlet 110V E-box (AB)" has been added to your cart.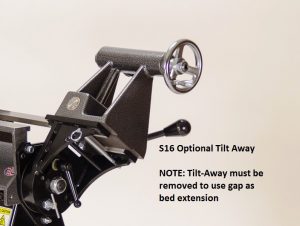 Tilt-Away for Sweet 16
$ 565.00
A popular option for the S16 to get the tailstock out of the way for turning.  Please note, it makes using the gap bed as a bed extension much more cumbersome. Buy it with your lathe or add it later.
Related products
Quick view

S16 Extra Banjo – Stock Size

$

395.00

Especially handy when you have the gap removed for a large diameter piece and want a to turn both sides of the work without relocating the banjo.  Also useful for long spindles that require a double posted toolrest and for steady rest work when you want a toolrest on each side of the steady rest.  Toolrest not included.

Add to cartDetails