Live and Drive Centers
$ 24.00 – $ 179.00
Robust Live and Drive Centers
Robust Live Centers use bigger bearings, and are warranted for five years. A precision 40 degree angular contact ball bearing, sealed & lubricated for life, carries both the thrust load and rear radial load. Combined with a precision radial bearing in the nose, this two bearing setup will deliver long lasting service and accuracy. This illustration shows how the inner and outer races are offset to carry more thrust load: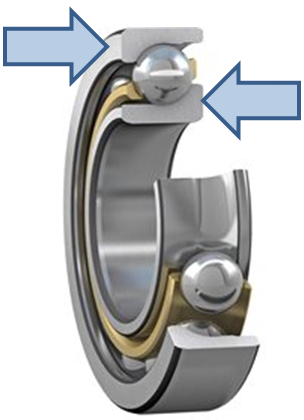 The tips of the centers extend and reverse to accommodate your turning. The flat end is useful when reverse chucking to support the work without marking the bottom of the piece.
All of the shanks are #2 Morse Taper. A 5/16" thru hole accommodates through drilling, for applications like making a lamp. All of the parts are treated with black oxide to minimize corrosion. The ends of the centers are threaded 3/4‐10 for standard accessories.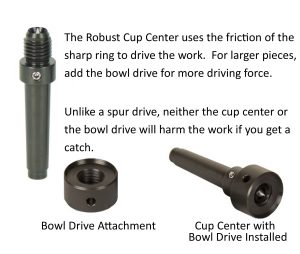 The optional Cone Set consists of a 1/25″ diameter aluminum tip and a reversible 4″ bull nose. This set fits other manufacturer's centers with 3/4-10 threads.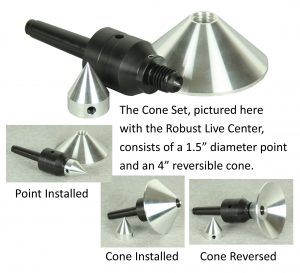 To learn more about our live and drive centers and to better understand how our ring-style cup drive uses friction to drive the work, please watch our short video below. Click on any of the items below the video to learn more.