View cart
"2 HP upgrade (220 volt)" has been added to your cart.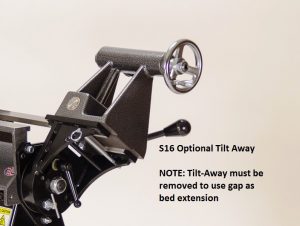 Tilt-Away for Sweet 16
$ 625.00
A popular option for the S16 to get the tailstock out of the way for turning.  Please note, it makes using the gap bed as a bed extension much more cumbersome. Buy it with your lathe or add it later.
Related products
Quick view

16" Scout Bed Extension

$

595.00

The Scout 16" extension can be used to increase your spindle capacity from 26" to 42".  Mounted on the outboard side of the lathe, you can turn a bowl or platter up to 21" in diameter.  If used outboard, you will also want to buy the toolrest extension to get your toolrest up to the proper height.

Add to cartDetails