Cup Center w/Bowl Drive Set
$ 73.00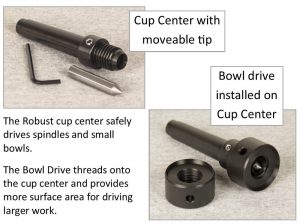 The Robust cup style drive center is perfect for safely driving spindles and small bowls.  If you get a catch, the wood just spins on the center. Like our Live Center, the tip is adjustable and it is threaded ¾-10 for any accessories you may want to add.
The Bowl Drive threads onto the cup center and provides more surface area for driving larger work.  When properly seated in the wood, the ring center allows the wood to spin if you get a catch.  If you think you need a little more bite, you can file a few small notches in the ring.
Jointly developed with noted turner Alan Lacer, the Robust ring style drives are based on German and Japanese style drives that have been used for centuries.  If you never tried a ring style drive before, you will be pleasantly surprised by how well they work.