View cart
"4" Low Profile Rest Standard Post" has been added to your cart.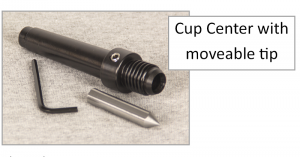 Cup Style Drive Center MT#2
$ 39.00
The Robust cup style drive center is perfect for safely driving spindles and small bowls.  If you get a catch, the wood just spins on the center. Like our Live Center, the tip is adjustable and it is threaded ¾-10 for any accessories you may want to add.  For driving larger work, add the Bowl Drive.
Related products
Quick view

Steady Rest

$

100.00 –

$

645.00

Bowl and Vessel Steady Rest

Steady rests are used to support large diameter bowls and hollow vessels when working on the interior. They are also used to support long spindles. Long hollow forms especially need the support of a quality steady rest.

We manufacture steady rests to fit five sizes of lathes: 14", 16", 20", 24" and 25". 16-25" steady rests are constructed from a rigid tubular steel ring. 14" steady rests are made from laser cut steel.  All the wheels are heavy duty & industrial quality, not roller skate wheels.

Upon request, we will orient the three arm 16-25" steady rests for better laser access.  We can also equip these steady rests with four evenly spaced arms.

Steady rests are made to order. You need to specify which lathe you have when ordering so that we can install the correct tenon to fit your ways. Click here for Robust Steady Rest Tips.

View productsDetails