View cart
"3/8″ Bowl Gouge – Unhandled" has been added to your cart.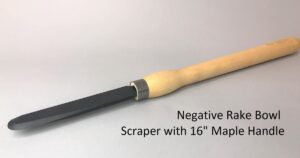 Large Negative Rake Scraper with 16" Maple Handle
$ 149.00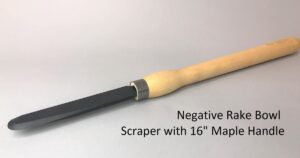 Our large negative rake scraper is made of nitrided M42 and measures 1" across and 5/16 thick. The solid maple handle is 16" long and features a stainless steel ferrule.
Related products
Quick view

Robust Turning Tools

$

65.00 –

$

189.00

Thru Dec 15:

'SAVE10″ to save $10 on unhandled turning tools.

'SAVE20' to save $20 on handled turning tools.

See home page for details!

Robust woodturning tools are manufactured from premium HSS (high speed steel) that has been treated with our proprietary Nitriding process.

What's special about Nitriding?

We're certainly not the first to Nitride cutting tools.  For instance, all of the carbide and HSS cutting tools we use to machine these tools here in our shop are Nitrided.   Nitriding is not a coating or plating, but a diffusion wherein extra carbon and nitrogen are added to the base metal.  This zone is up to .002" deep.  The result: significantly improved edge holding and reduced sharpening.

To make our tools, we start with premium HSS of either M2 or M42.  After machining the tools to shape, they are heat treated 62-64 Rockwell C.

 

The hardened tools then go through the Nitriding process, increasing surface hardness up to 75 Rockwell C.  Because the treatment is diffused into the metal itself, it will not flake, peel or chip.  The tools are just as easy to grind as regular HSS, and sharpen well on conventional and CBN wheels.

But isn't the Nitriding Ground Away during Sharpening? Gouges are ground on the end, and the cutting edge is defined by the portion ground away and the flute.  Since the flute is Nitrided, the cutting edge is also Nitrided.   For scrapers, whether conventional or negative rake, just grind the bottom bevel.  This leave the Nitriding on the top surface, so the burr is Nitrided.  You are correct about skews though, there will be no Nitriding on the cutting edge.  Still, it's M42, which is pretty darn good steel.  You'll also like the radius on the edges of our skews and scrapers, and this really makes them more versatile for a number of different cuts. Flat Milled Gouges: 

All Robust gouges are flat milled on the top and you can use your sharpening jig all the way down to the end.

Parabolic Flutes:

Our bowl gouges feature a parabolic flute.  Parabolic flutes optimize three things: 1) having a good size flute for chip ejection, 2) leaving enough metal in the gouge for good strength and 3) sharpenability for both fingernail and conventional grinds (like the 40/40).

Spindle/Detail Gouges

feature shallow radius flutes equal to the diameter of the  gouge.  For instance, the 1/2" diameter spindle gouges has a flute with a 1/2" radius.

Speaking of Diameters:

  We use the American method of sizing the gouges, based on the diameter, not flute width.  All gouges are made from slightly oversized stock, and the shanks are turned to the diameter listed in their descriptions.

Handles:

  All tools are offered with and without handles.  The handles are hard rock Maple, turned to our specification in Pennsylvania.  All have stainless steel ferrules.  We also offer a line of collet based tool handles and collet kits.  Click the product tab at the top of the page to learn more. To learn more about each cutting tool, please click below:

View productsDetails