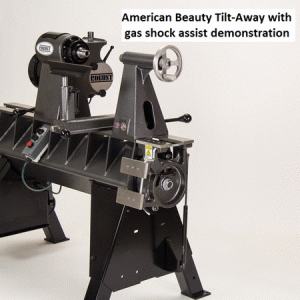 Tilt-Away
$ 950.00
Click on the image to start an animation of the Tilt-Away in action.
Robust's patented Tilt-Away is the very best option for getting your tailstock completely out of the way for turning.  It not only does that, it gives you a safe storage space for the heavy tailstock, and quickly realigns it with the lathe bed when you need it again.
The Tilt-Away is our most popular American Beauty option and 98% of these lathes are shipped with it.  We are often told "It's worth its weight in gold".  You won't be disappointed.