Tool Handles – Robust Collet Handle System
Robust Collet Handle System
Whether you're changing gouges or simply taking the handle off to make sharpening easier, the Robust Collet System makes it a quick job. Just a twist of the wrist. Robust designed the system around popular ER series collets. Each system is available with four common sizes.
You can buy the complete system or a kit without a handle: The handles are hard maple with a polyurethane finish. The overall length for the ER32 handle is 20.5″ and the ER25 is 16″. The kit includes all the metal pieces you'll need, and it's available with without the collets.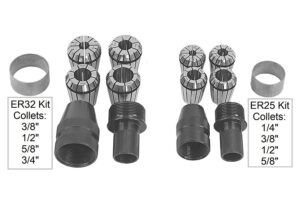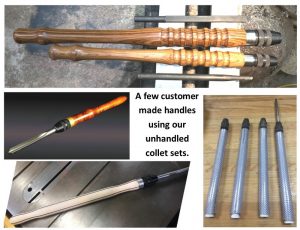 Collets in the ER 25 set: 1/4, 3/8, ½ & 5/8"
Collets in the ER 32 set: 3/8, 1/2, 5/8 & 3/4″
All of the ER series collets have an expansion range of a little more than 1/32″ To accommodate gouges that are slightly oversize, the collets we provide are actually 1/32″ larger than nominal. For instance, a 1/2″ collet is actually 17/32″.
In regards to tools with square or rectangular tangs, ER collets have eight segments. You'd want the corners of the square shank to register in them. If the four collets we provide don't work, you should be able to find one online that will at nominal cost. All of the rectangular tanged tools Robust manufacturers will fit one of the supplied collets.
Warranty
Metal parts: 5 years. Wooden handle: 30 days. Please note: Wood is a natural material and while we inspect each piece visually for flaws and defects we cannot prevent breakage.
To learn more, just click any of the items below this introductory video:
$ 69.00 – $ 169.00