[row][span12]
Which Robust Lathe is right for me?

Overview:  We offer three lathe models, the American Beauty, the Sweet 16 and the Scout.  Below is a paragraph about each, followed by a section describing some of the features common to all of our lathes.
The American Beauty is our premium bowl and vessel lathe.  This lathe is heavy and strong and gives you maximum access to the work.  An open footprint lets you stand close. The sliding headstock lets you put the work where you want it.  The 25" swing gives you lots of room to handle those big turning blanks. The optional Tilt-Away gets the tailstock completely out of the way and quickly repositions it.  Don't let its weight and strength scare you though, the American Beauty is precise and smooth enough for pen turning. It is our most popular model, and a favorite with professionals and hobbyists alike.  Almost everyone upgrades to the 3HP motor and Tilt-Away. Available in standard (as shown) and long bed lengths.
[/span12][/row][row][span12]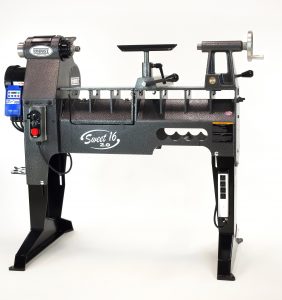 If we had to describe the Sweet 16 in two words, they would be "compact capacity".  Have a small shop or not want your lathe to take up a lot of space?  Consider the Sweet 16. Disguised as a normal 16" lathe, the removable gap section lets you make bowls, platters or wall hangings up to 32" inches diameter. Move the gap section to the end to increase your spindle capacity 14".  Great for making a bowl one day, a pepper mill the next, and then maybe a walking stick or big platter. Available in short, standard (shown) and long bed lengths, one is certain to fit in your shop. The 1.5HP model can be wired 110v or 220v.  The 2.0HP is 220 only. A Tilt-Away is optional.
[/span12][/row][row][span12]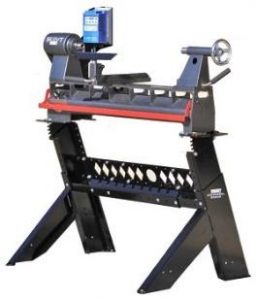 The Scout  is our smallest lathe but certainly no lightweight.  With a 14" swing, it is perfect for folks doing smaller work, without the short-comings of a mini-lathe.  Want to occasionally turn larger than 14" or turn something a little longer? Get a bed extension. Mount the extension outboard and turn up to 21".  Put the extension on the end of the lathe bed and increase spindle capacity 16". The full length stop bar and simple design make the Scout popular with students and teachers.  Small enough to get in your basement, but rugged enough to last, hobbyists and professionals both will enjoy a Scout. The optional Universal Stand (as shown) can be adjusted for the tallest turner or dropped down and tilted for the seated turner.  Available in 1.0 and 1.5HP, either size can be wired 110v or 220v.
[/span12][/row][row][span12]
Features common to all Robust lathes:
Warranty:

Robust offers an exclusive "head to tail" seven year warranty on all lathes. Read more about

our warranty HERE
Stainless Steel Ways:

 Whether you turn wet wood or exotics, your Robust ways will not rust.

Spindle:

Pre-hardened 4140 Chrome Moly alloy threaded either 1 1/4″-8 or 33 x 3.5 metric. There safety set screw groove and a #2 Morse taper. Spindles are through-drilled and accommodate the vacuum adapter we supply.

Heavy Duty Bearings:

  Permanently lubricated bearings warranted for seven years.  Robust is the only manufacturer with this long of bearing warranty.

Spindle lock

: Stays locked and disconnects the controls when engaged.  No more burnt belts when you forget to unlock the spindle.

Handwheel:

The American Beauty and Sweet 16 are equipped with a highly polished and comfortable handwheel.  The Scout comes with two faceplates, one of which may be used for a handwheel.

Indexing

: 48 position indexing on the American Beauty and Sweet 16. 24 positions on the Scout.

Quality Motors and Drives

:  We use industrial grade motors and quality matched drives ("inverter" or "VFD").  The drives we select operate in vector mode, which senses load and increases torque as needed. Therefore, full torque is available at ALL speeds.

Controls:

Variable speed and forward/reverse are standard.

Bed Construction:

  Beds are constructed of structural and stainless steels, fully welded and stress relieved before final finishing. 16″ bed extensions are available for all models.

Comfortable Turning Height:

  Adjust the legs to position the work where it is comfortable for you.  The spindle height adjust from just 42″ to almost 50″. Want it lower or higher than that?  Call us, we may be able to accommodate you.

Powder Coating:

 All lathes are finished in durable and attractive powder coating.  No wet-paints are used.
Standard Accessories:

Every Robust lathe comes with these standard accessories:

Handwheel (Scout uses one of the face plates)

Spindle Lock with electronic interlock

Indexing: 48 Position for American Beauty and Sweet 16, 24 position for Scout

Knock-Out Rod

12″ Robust tool rest with hardened rod

Robust cup-style Drive Center and Bowl Drive with adjustable point and threaded for accessories.

Robust Live Center – cup style with adjustable point and threaded for accessories

Operator Manual

3.5″ Aluminum Face Plate
[/span12][/row]