About Robust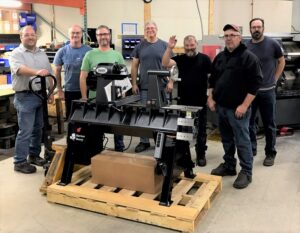 Our goal is to bring you the finest in woodturning lathes and accessories.  We pride ourselves in listening to you, our customers and non-customers, and incorporating the very best of your ideas into our product line.
We recognize that when you buy Robust lathe, you buy the lathe of a lifetime, and we pledge to do our best to make that dream come true. Lathes are made to order, and you can expect a lead time of 10-16 weeks. Please call or email for a more accurate time frame. Lathes can be purchased direct from us or from one of our woodturning professionals, all of whom are committed to woodturning, just like you.
All Robust lathes and accessories are made in our own machine and fabrication shop in Barneveld, Wisconsin. What we do not make ourselves is made to our specification by nearby manufacturers. For instance, all of our castings come from either Washburn Foundry or Austin Foundry, both family ran businesses here in Wisconsin.  Most for our precision CNC machined parts are made in house.  Those that aren't come from Production Machine & Enterprises in Madison, Wisconsin or Allied Machine in Michigan. Laser cut parts come from either Laser Dynamics in Allendale, Michigan or Leibovich Steel in Rockford, Illinois. We certify all Robust products have a domestic content of over 85%, but most are more than that.
Robust was founded January 1, 2004 by Brent and Deb English and is a limited liability corporation. Way back in 2013, Kurt Hertzog wrote a great introductory story about us for Woodturning Design Magazine. We've made a lot changes since then, but it's still a good read.  Check it out here.
Thank you, Brent and Deb English