We've switched from ash to hard maple for our Collet Tool Handles.  These are turned for us in Pennsylvania and finished with a coat of wipe-on polyurethane.

With  this posting you'll also see two customer turned examples from Rick Auge and Eric Godwin.   Rick had this to say:  "Excellent combo.  I put them into 20" and 24" handles.  Excellent for all around use and exceptional for hollowing / no vibration & no slipping with curved hollowing tools & no marring of the tool shank by using set screws."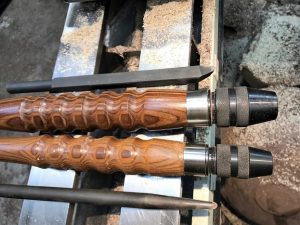 And Eric featured his example in his woodturning blog: http://godwinswoodturning.com/blog/ along with some nice comments and photographs from his effort.

Thanks Rick and Eric !